Mississauga Chiropractor at Strength-N-U
QUALITY Chiropractic CARE..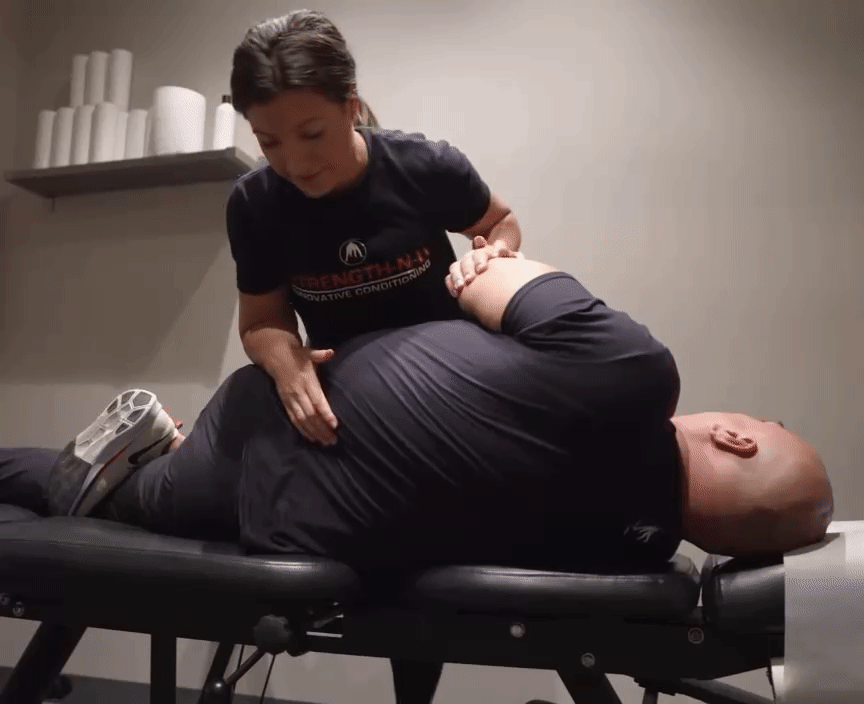 Chiropractors offer an alternative method of treatment that uses hands-on spinal manipulation and other methods to promote healing through the body's musculoskeletal structure, particularly through the spine.
Chiropractors focus on the cause of a person's pain, rather than just treating its symptoms. Proper alignment of the spine and other joints has enormous implications for your body's overall health. The spine is your body's central structure, providing support as well as mobility. Chiropractors adjust joints that have become restricted by injuries (such as whiplash) or continuous stress (such as poor posture).
Back & neck pain
Sciatica
Scoliosis
Injuries & accidents
Joint pain & stiffness
Headaches
Loss of range of motion
Osteoarthritis
Fibromyalgia
and More!
Did you know that you can see a Chiropractor to adjust your feet?

Chiropractors are mostly known for adjusting or "cracking" your spine or neck. They can also adjust other parts of your body such as your shoulders, wrists, ankles and feet!
SNU Chiropractor Jenn enlightens us about getting your ankles and feet adjusted if you are a high level athlete, suffering from past sprains or experiencing pain while doing normal daily things.
If you are in need of or interested in getting a neck adjustment but have some reservations about Chiropractic, you are not alone.

It is not uncommon to question, to have concern or even fear the practice of Chiropractic. However, Chiropractic neck adjustments have been shown to be effective for treating neck pain, tension, headaches and dizziness. SNU Chiropractor Dr. Dan answers a very common question with research and data to shed some light on this topic.
To ensure you get the most out of your appointment with your chiropractor, be sure you are well-hydrated and have used the washroom beforehand. And don't forget to wear comfortable clothing!
It's normal to experience some soreness and tenderness after an adjustment from your chiropractor. Make sure you are drinking plenty of water and taking care of yourself internally as well!
I went to Strength-N-U for the first time for chiropractic treatment. I was so IMPRESSED with my experience.
My Chiropractor was so nice and knowledgeable. You feel so welcomed as soon as you walk in. They have everything from workout sessions, nutrition and various therapy options. One stop shop for everything!  

You will not be disappointed!~

KELSEY EVANS
I've been going here 18 months and I absolutely love it here.
The place is super clean and the staff of extremely friendly. I've worked with their personal trainers, chiropractors, and physiotherapists and I've always had phenomenal service.
They also work with a lot of insurance and benefits. I would 100% recommend this place.

Aravinth Ponnambalam
Chiropractic +
Physiotherapy
The best chiropractors and physiotherapists around. I injured my left shoulder in 2018 and my right shoulder recently, Dr. Neil was very patient with me and gave me the necessary workouts to rehab and get back to where I was before.
Not only that but when I pulled my lower back muscles during a workout, I had my chiropractor adjust my back days before a competition and I can't thank her enough.
Lastly I had another lower back injury from a bad fall and had Brandon take care of me, I had a session with him and felt relaxed when leaving. He's definitely passionate about his job and he's a sick guy. Thanks Strength-N-U!
Justin R.
Testimonials and reviews left by our clients on Google Reviews. 
Book a free consultation to assess your condition, and what we can do to relieve your pain. 
See what it's like to get your first Chiropractic Adjustment from one of our chiropractors on YouTube.
Frequently Asked Questions
1331 Crestlawn Dr Unit B
Mississauga, ON L4W 2P9, Canada

MON - THURS  8AM - 9PM
FRI  9AM - 9PM
SAT  8:30AM - 4PM
SUN  9AM - 4PM
FITNESS

+1 289-891-9096
crestlawn@strength-n-u.com
THERAPY

+1 289-891-9096
crestlawn@snu-therapy.com
Our newest Mississauga personal training location features a fully equipped gym, with clean locker rooms and showers.